Home Safety: Child Proofing Your TV
TVs are a staple of our everyday lives, with most homes now having multiple screens – including in children's bedrooms. Children begin to explore their surroundings from a young age and whilst we do our best to child-proof our homes, an area which is often overlooked is the TV and A/V set up. But with flashy images, intriguing sounds, and some of their favourite characters, TVs act as a magnet for curious minds. Modern TV's can weigh anything up to 50 or even 60kg so it's important to avoid any accidental knocks or tip-overs.
Here are our top-tips to make your home entertainment set up more child friendly, with handy links taking you straight to the product pages
3 ways to secure your TV
– 
1 – Wall Mounting
Mounting your TV on the wall is a popular option, and for good reason. Installing a TV Wall Mount is easier than you may think and will ensure your screen is out of reach of small hands, while creating a stylish room look and saving space.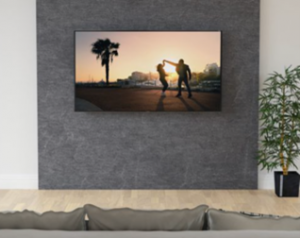 – 
2 – Choose a TV Stand that incorporates a TV Mount
A TV Stand with an integrated TV Mount is a great alternative to wall mounting. Firmly stabilising and securing your TV from knocks and tips, offering storage below and without the need to damage to your walls.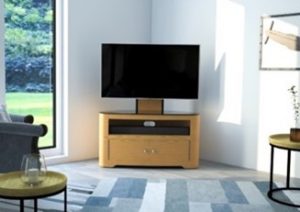 – 
3 – TV Safety Straps
If you already have a TV stand, the easiest and cheapest way to secure it is with AVF TV Safety Straps. Our TV Safety straps are length adjustable and prevent forward tipping by anchoring your TV to your TV Stand / furniture or directly to the wall!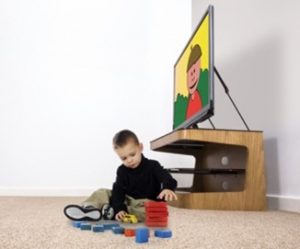 – 
Consider your A/V equipment
– 
A/V equipment such as DVD players, Freeview boxes or game consoles all come with flashing lights, multiple buttons and holes big enough to jam things in – all things likely to attract the attention of your child. We suggest opting for a TV stand with closed storage, by hiding all those devices away you're minimising the risk. For extra peace of mind, you could always opt to add a child safety lock.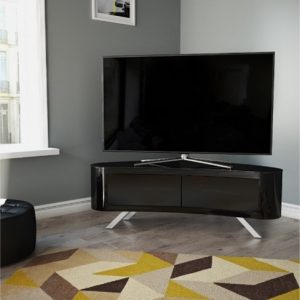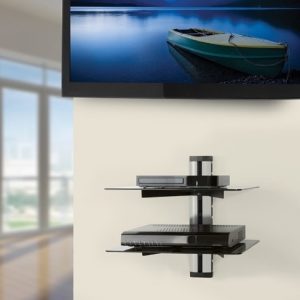 If closed storage is not enough to keep your child reaching for your A/V equipment, you may want to consider using AV Accessory Shelving.
Hide the cables
– 
Leaving cables dangling down from a mounted TV or having multiple cables going in several different directions behind a TV Stand not only looks messy, it could present a further hazard for your child. To prevent any grabbing or pulling on the wires, we suggest using our self-adhesive Cable Management.
Simply cut to size, stick and paint to match your décor, and those unsightly cables will be out of sight in no time.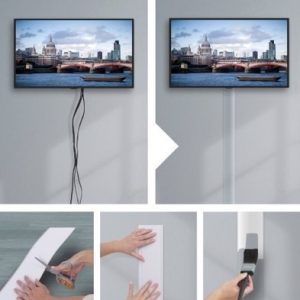 Secure the remotes
– 
Your TV Remotes are more than likely not as clean as you think. In-fact, from constant use they are one of the most overlooked harbourers of bacteria in our homes. So, they aren't something you'll want your child chewing on. Not only that, the battery casing can often be easily removed. This presents choking hazards for young children from both the battery casing and even worse, the batteries themselves.
Ensure all Remotes are stored behind closed doors or out of reach of your child, to minimise risk.
Based in the UK, AVF are one of the worlds' best-known suppliers of innovative TV Wall Mounts and stylish TV Stands.
We've been offering enhanced viewing experiences to consumers for over 40 years, with robust products renowned for their ingenuity, strength, looks and ease of installation.